Human hair vs synthetic fiber?
1) BURN FOR SMELL AND ASHES.
Choose a small strand of hair and burn it. If the hair is 100% human, it smells like a barbecue and the ashes can be twisted into powder; if not, it smells like plastic and the ashes will stay as a caking.
2) THE PRICE.
That is very obvious: with the same style and length, Human hair wigs are much more expensive than synthetic ones. Therefore, If your human hair wig is relatively cheap, you may need to consider whether it's blended with synthetic fiber or the hair that collected to make this wig is not of a healthy quality.
3) THE ABILITY TO STAND HEAT.
Use a flat iron to heat the hair. If the hair can be heated at 220 degrees without a paste, it is real human hair. Well, a small strand of hair is enough for the test.
Wigs vs Hair toppers?
Perhaps you are suffering from thinning hair or anticipating major hair loss from chemo. Selecting a perfect hair products can be very confusing and time-consuming for the first-time buyer. The question is whether you should opt for a full wig or a hair topper?
Whereas a wig provides total head coverage, hair toppers provide coverage for one targeted area. Hair toppers clip into the existing hair, while wigs are work with a wig cap or overtop a grip. Both wigs and hair toppers can be made with synthetic or human hair, and both are available in a variety of colors and styles.
What is Kanekalon synthetic fiber, heat friendly synthetic fiber and Realtress synthetic fiber?
Synthetic hair is a man-made fiber. There are different types of synthetic hair fibers, such as acrylic, polyester, polyvinyl chloride (PVC), and Kanekalon. Lower quality fibers are shinier in appearance and tend to be less realistic in texture and movement.
HEAT FRIENDLY SYNTHETIC FIBER
Just as the name implied, heat-friendly or heat-resistant fiber can be styled using a low/medium heat setting and can be curled, blow dried, or flat ironed to achieve a different hairstyle. Heat friendly/resistant synthetic fiber can withstand heat up to 350°F/180°C. Synthetic hair should not be colored.
KANEKALON SYNTHETIC FIBER
Light and soft with natural body and luster, Kanekalon is the highest quality of synthetic fibers available. All our Kanekalon synthetic wigs and hair pieces  offer styles with soft, light, natural-looking hair with gorgeous body and vibrant, resilient color.  For kanekalon fiber wigs, you should try to avoid all heat sources while wearing your wig. Heat will damage the synthetic fibers of the wig as they will become singed and partially melted.
REALTRESS FIBER
Different from previous collections, the new LaVivid wig arrivals possess a new fiber called 'realtress' synthetic fiber. This fiber has the same amount of shininess as human hair, for a more natural appearance. Realtress fiber can also be heat styled to temperatures under 300 °F/ 148 °C, enabling it to be more heat resistant. 
About mono base, silk base and lace base?
For people purchasing a Hair Topper for the first time, it can be useful to become familiar with the different types of hair topper bases to help you choose an ideal hair topper. At UniWigs, we offer three different types of bases in our Hair Topper collection. Each of the base types have different pros and cons.
Mono Base
With a Mono Base, individual hairs are tied to a fine mesh material that allows both light and air to pass through. The Monofilament Base allows you to change the part as you like for great styling versatility, which can give you a natural look. Mono bases are also extremely durable and have a long lifespan.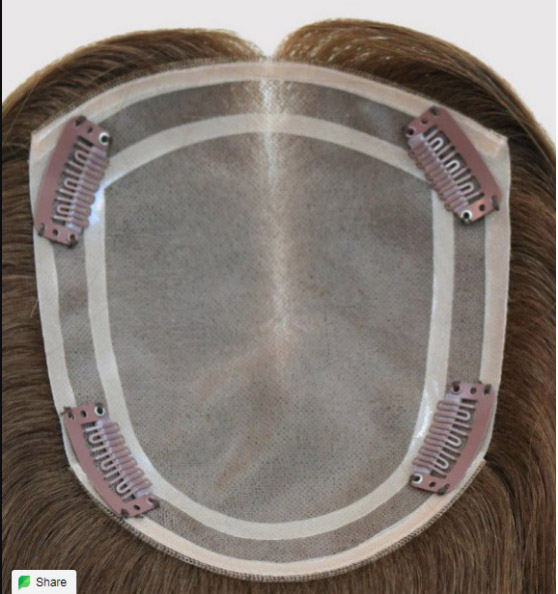 Pros
Mono Base is stiffer, much tighter than the lace base and holds its shape very well.  monofilament top is soft and very comfortable to wear, hence, it will not irritate your head. It can be the best choice for girls with a sensitive scalp.
The Mono Base can mimic the look of natural hair growth and provides a free and movable hair parting for easy styling.
Cons
The Mono Base is smooth and comfortable, but not as breathable as the Lace Base, due to the weave of mono base material being tighter than the lace.
Silk Base
Silk base is made with layers of lace and pure silk fabric on the top of the base. The hair is ventilated onto the inner lace layer and then injected through the silk cap, thus looking like the hair is growing out from the scalp. A Silk Base will perfectly hide the knots and you won't need to worry about any other techniques to make the knots invisible or less visible, because the knots are hidden under the silk base.
Pros
Silk Base hair toppers give the appearance of a scalp that looks like your own. Silk Bases are the most realistic topper base on the market today. With a Silk Base, there is no need to camouflage the knots when you part your topper!
The Silk Base offers versatile styling options as you can part your silk topper any direction.
Cons
Difficulty Laying Flat: Due to the multiple layers in a Silk Base topper, Silk Base hair toppers are not as easy to lay flat on the head. Silk Bases may also encounter slight bulkiness on the crown. Due to this, Silk Bases usually take a little extra work to lay flat compared to other bases. Due to its unique layered construction, the Silk Base can lack breathability compared to lace and mono bases.
Lace Base
Lace base is made with nothing more than lace with hair strands embedded into the tiny holes. Lace base is usually thin and tend to lay flat.
Pros
Naturalness: Full Lace Toppers and Toppers with a Lace front are the only base types that perfectly mimic the look of a natural hairline.
Breathability: The Lace Base is considered the most breathable out of the three different bases, due to the lace materials well-spaced and large pores.
Cons
Visible Knots: Strands of hair are individually tied to a piece of sheer lace base creating a knot at the base, which can be visible around the hair parting line. However, the knots are less visible when the knots have been bleached or the hair topper is a light color.
Lace front cap, full lace cap and Glueless full lace cap
Learning about wig cap construction can help you choose a wig that will meet your needs. Here at UniWigs, we have five different cap constructions. They're the lace front, the full lace, the glueless full lace, the monofilament, and the silk top. What's the difference between each type of the cap and how do you choose. Let's explain this…
LACE FRONT WIG
Lace Front Wig cap construction is very natural-looking, creating an invisible hairline and giving the illusion of hair growing right out of your scalp. Lace Front Caps have lace in the front and traditional wefts in the back. In the front lace area, you can part your hair freely. For the weft area, we also add an elastic net inside of the cap which makes the wig comfortable and durable. Our lace front wig has clips and combs pre-sewn into the cap and an adjustable strap in the back which can be tightened an inch. The lace, after all, is delicate, so be careful not to pull or stretch it out.
Natural-looking front hairline
Closed weft with elastic net inside of the cap
Clips/Combs already sewn in
Competitively less expensive
Handled with care
FULL LACE WIGS
Full Lace Wigs are 100% hand-tied human hair wigs. Each hair is hand-tied onto a mesh base to create the most natural hair growth and provide a super soft fit. With a full lace wig, wherever you part your hair, you will have the natural appearance of scalp. A full lace wig imitates most successfully the natural movement of real hair and can be worn in a variety of styles such as a high ponytail or updo. A full lace wig takes 40 hours of work to make, so they are pricier. However, it is a worthy investment considering its unique features.
100% Hand-Tied
Allows a free parting anywhere
Natural hair movement
Can be worn in a high ponytail or updo
Higher price
GLUELESS LACE WIGS
Glueless lace wigs don't need to be secured using glue. Glueless lace wigs are 100% hand tied and have all the benefits of a full lace wig. A glueless lace wig has combs and clips already sewn into the cap, as well as an adjustable strap at the back which can be tightened by an inch. For beginners, a glueless lace wig is recommended.
Glue-free
100% Hand-tied
Clips and combs pre-sewn
Adjustable Strap
Great for beginners
What are the short hairs on the topper and wigs?
Firstly, the shorter hairs on your topper are not damaged hair or breakage, they are called the "hair return" which is necessary in the wig production process.
Watch this video for more information on the hair return and how to blend it in the topper:
Why does my synthetic wig have a matted root? Is it a defective product?
We get a lot of variations of this question, usually along the lines of "Why does my new wig look so ratty?" What people are referring to is called permatease. Permatease is the short, wiry or crimped hair fibers used in a standard cap construction to provide lift and movement to the hair. While it does provide shape and volume, it can occasionally show through at the crown or parting area, appearing to look "ratty".
When used appropriately, permatease contributes to the wig's shape and style without being overly noticeable. It may alarm a new wig-wearer, but it is not a flaw in the wig, and it is put there intentionally. Without permatease, a standard wig wouldn't have any of the life or movement shown in photos. However, if too much permatease is used it can distract from the look of the wig and become more prominent with wear.
For more information, see this video below
How to wash human hair and synthetic fiber?
Human Hair
Before you wash, make sure you carefully detangle the hair using a wide tooth comb.
Rinse from hair root to the tips in lukewarm water. Or immerse the piece in lukewarm water
Wash the piece with mild shampoo
Smooth the shampoo from root to the hair tips section by section. DO NOT twist or rub.
Gently rinse the piece from root to tips in lukewarm water.
Squeeze excess water. DO NOT wring the hair.
Apply leave-in conditioner from the mid-shaft to the ends(avoid the roots or knots) and leave in for a few minutes.
Cleanse the piece in lukewarm water and comb the hair with your fingers to keep the hair in the same direction
Gently squeeze excess water. DO NOT rub or wring.
Lightly blot hair with a towel DO NOT twist or wring
Secure your hair topper on a Wig Head and part the hair as you want. Then blow dry the hair.
Synthetic Fiber
Before you wash, make sure you carefully detangle the hair using a wide tooth comb.
Immerse your wig in lukewarm water(86℉-95℉) with wig shampoo and allow it to soak for a few minutes.
Then rinse gently from roots to ends. Do not rub or twist as this can lead to tangling.
Apply leave-in conditioner from the mid-shaft to the ends (avoid the roots or knots) and leave in for a few minutes.
Let lukewarm water flow in the same direction of the hair to avoid tangling and rinse thoroughly.
Gently blot excess water with your hand or a towel. Do not twist or brush.
Gently shake the wig to regain its style and air dry on a folding wig stand.
WARNING:
Never try to comb hair when wet
Never place a wet wig on a Styrofoam head or a blockhead which can stretch the wig cap Avoid exposure to high heat or fire.
How to choose the wig cap size and topper base size?
Hair topper
It is essential to make sure that the topper is right fit for you if you are looking for seamless effects that are both safe and effective. If you want to cover you hair loss with a hair topper, you have to first measure your area of thinning. Measuring your hair loss is important because it will help you determine what base size works best. All you need is a tape measure, a pen and a piece of paper.
First, measure side to side to determine width and then front to back to determine the length.
Be sure to record the area of hair loss and date it. We recommend you to keep a record, so you can track your hair loss development.
Add about one inch to your measurement to find your correct topper base size.
Wigs
CAP SIZE

Circumference

(inch)

Front to Back

(inch)

Ear to Ear

(inch)

Petite
21"
13.25"
13"
Petite/Average
21.5"
14.25"
13.5"
Average
22"
14.5"
13.5"
Average/Large
22.5"
15.25"
14"
Large
23"
15.5"
14"
1. Circumference: Starting in the front at your natural hairline. Follow along your hairline just above your ear.
2. Front to Back:Measure from the front of your natural hairline back over the crown, where your head bends and meets the back of your neck.
3. Ear to Ear: Start in the front of one ear, bringing your tape measure over the crown to the front of your other ear.
How to choose the hair color?
Hair color is a great way to subtly and sometimes drastically change your entire appearance. The right hair product color can make you look fab with very little effort. Choosing the right color can be a challenge especially for a starter. Follow these steps below and we believe you will find the perfect color.
a. Find you hair color in our color system.
UniWigs provides various colors for all our hair products and we will continue to update new colors based on the latest trends. Try to blend a color that is slightly lighter or darker than your own hair as it is likely to look more natural and will add depth and variance to your color.
https://www.uniwigs.com/content/18-choosing-a-color-for-wigs
b. Purchase a color ring from us.
pIf you are still unsure of the color match, a color ring would be another good choice. Buying a color ring has never been more affordable! This is the best option for somebody who is a frequent wearer of alternative hair products as it makes changing colors a breeze!
Click the following link and purchase a color ring now
.
"Color ring loan program"
UniWigs has made viewing a color ring easy with our "Color Ring Loan Program". Here is how it works:
Select the right color ring and pay for it.
Once you decide on a color, return the color ring within one month. And your money paid for the color ring will be refunded as loyalty points. You can redeem the loyalty points any time before it expires.
Please be sure that the color ring can be reused before you return it.
c. Send us your hair sample
If you cannot find your hair color in our hair system or on the color ring, then send us a hair sample and let us choose the best possible color match for you. This is the very best way to ensure that you will receive a color you are happy with. Our experienced hair designer would personally help you choose the perfect color. We will contact you back upon receiving your hair sample.
Here are the requirements of preparing your hair sample:
Length and volume: at least 1.25" long by 1/4" across. (The more the better)
Section: Make sure that your hair swatch is taken from the section of your hair that you wish to match.
Please enclose a note with your name, email address, phone number and the products you are customizing on.
d. Send us a picture for reference.
We do not recommend this way because of the color variations on different screens. If you are matching your own hair color, please include more than one photograph of yourself taken under different lighting conditions for comparison. If you prefer a color other than your own, you can send us a photo that can exactly show your favorite hair color.
Can I swim or shower with alternative hair products?
We do not recommend this. It can put too much stress on the hair and create unmanageable tangles. As well as this, pool chemicals and salt can damage the hair and affect color.
Can I straighten or curl the hair?
You can curl or straighten the human hair products just like your own hair. However, just like our own hair, the less heat you use the better.
NOT ALL SYNTHETIC FIBERS ARE HEAT FRIENDLY. You cannot use any heat on Kanekalon fibers because it can cause irreparable damage to the fiber. Heat-friendly synthetic fiber can withstand a low heat. Heat-friendly fibers should be curled or straightened with a heating tool that is 90-140°C.
Can I dye or bleach the hair?
Yes, human hair products are dyeable. You can dye the hair to a darker color. White, Platinum Blonde and light grey hair are the best colors to use if you want to dye to a darker color. Wash the wig to remove any styling products and then let it dry for a few days before beginning to dye it.
We strongly do not recommend you to bleach our human hair products at home. All colors we have cannot be bleached. This is something wigs have in common with human hair; it damages the wig if hair bleach is applied to it just as it damages regular hair.
Synthetic hair products cannot be dyed with regular hair dye. We strongly do not recommend you dye a synthetic hair product since it may cause irreparable damage.
About the color difference.
Hair color options on our website are as accurate as possible. However, it must be noted that on-screen representations do not give necessarily represent the color precisely due to variable monitor calibrations. Additionally, the computer or device you use may have an impact on how colors appear. For example, Apple products tend to make colors appear slightly warmer.