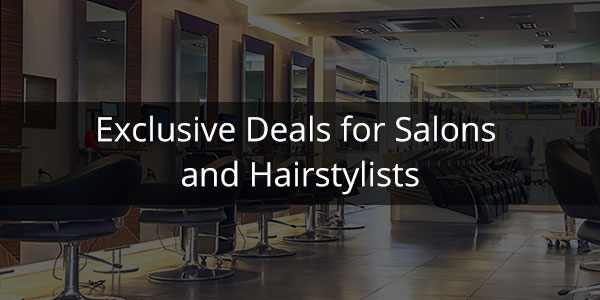 If you're a salon or hair stylist that offers hair extension services, feel free to enquire about a partnership with us to receive a wide range of exclusive benefits.
If you're thinking of starting hair extension services to your clients, we offer a business start-up package for you to start this business successfully.
Check each tab below to learn more about the benefits.
一 Wholesale Collaboration 一
Custom order acceptable
Affordable wholesale prices
Quick delivery time
Free service of package design
ENQUIRY
一 Start-up Business Support 一
Get a chance to receive up to 50% off discount
Sample testing available
Ready-to-ship products
Three options of package service
Hair Extensions
Cathy Halo
140g /pc
G-1B Off black
18"
1
$ 220
Audrey Classic
Clip-in
140g /set
G-613 Platinum Blonde
16"
1
$ 280
Isabel Classic
Clip-in
160g /set
T-486 Sunshine Ombre
18"
1
$ 370
Joanna Tape-in
3g/pc
G-613 Platinum Blonde
14"
20
$ 196
Accessories
1
$ 126
Extra Service

Product Catalog

1
$ Free

Website / Package Design

/
$ 45

Sub Total

/
$ 1237

Discount

/
- $ 438

Total Payment For You

/
$ 799

*This is a suggested package. All hair provided are pure virgin remy hair.
You can pick the hair extensions on your own and email us: [email protected]

Hair Extensions
Cathy Halo
140g /pc
G-1B Off black
18"
1
$ 220
Audrey Classic
Clip-in
140g /set
G-613 Platinum Blonde
16"
1
$ 280
Isabel Classic
Clip-in
160g /set
T-486 Sunshine Ombre
18"
1
$ 370
Joanna Tape-in
2.5g/pc
#1B
20"
1
$ 199
Joanna Tape-in
2.5g/pc
#6
20"
1
$ 199
Joanna Tape-in
2.5g/pc
#60
22"
1
$ 229
Accessories

| | | | |
| --- | --- | --- | --- |
| 43 colors | Comb | Clips | Pro-Flex II Hair Extension Tape Roll |

1
$ 141
Extra Service

Product Catalog

1
Free

Website / Package Design

/
$ 45

Sub Total

/
$ 1683

Discount

/
- $ 484

Total Payment For You

/
$ 1199

*This is a suggested package. All hair provided are pure virgin remy hair.
You can pick the hair extensions on your own and email us: [email protected]

Hair Extensions
Cathy Halo
140g /pc
G-1B Off black
18"
1
$ 220
Audrey Classic
Clip-in
140g /set
G-613 Platinum Blonde
16"
1
$ 280
Isabel Classic
Clip-in
160g /set
T-486 Sunshine Ombre
18"
1
$ 370
Joanna Tape-in
2.5g/pc
#1B
20"
1
$ 199
Joanna Tape-in
2.5g/pc
#6
20"
1
$ 199
Joanna Tape-in
2.5g/pc
#60
22"
1
$ 229
Hand-tied Weft
100g/set
#1B
20"
1
$ 259
Hand-tied Weft
100g/set
#4
20"
1
$ 259
Hand-tied Weft
100g/set
#613
20"z
1
$ 299
Accessories

| | | | |
| --- | --- | --- | --- |
| 43 colors | Comb | Clips | Pro-Flex II Hair Extension Tape Roll |

1
$ 141
Extra Service

Product Catalog

1
Free

Website / Package Design

/
$ 45

Sub Total

/
$ 2600

Discount

/
- $ 901

Total Payment For You

/
$ 1699

*This is a suggested package. All hair provided are pure virgin remy hair.
You can pick the hair extensions on your own and email us: [email protected]
一 Recommended Hair Extensions 一