Hair Topper 101 - How To Select the Hair Color
Views: 22707
The color of your Hair Topper should match your own bio hair color as closely as possible. However, sometimes it can be hard to find a perfect color match for every hair shade. We highly recommend utilizing the following options to select the right hair color for you.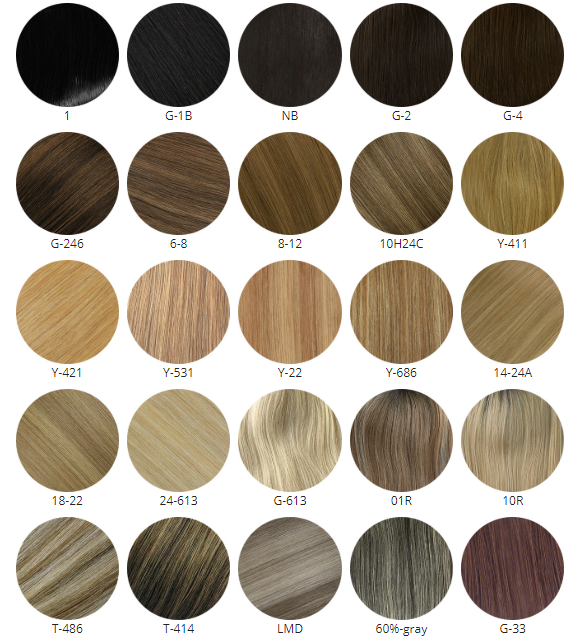 1. Send us a Hair Sample
Send us a Hair Sample Swatch of your own hair. Your natural hair will allow us to match your true color from the source! This can be a great way to ensure that you will receive a color that you are happy with.
How to Prepare your Hair Sample:
To prepare your hair sample, cut a section that is at least 1.25" long by 1/4" across, consisting of approximately 100-200 hairs, weighing around 2 grams. (The more hair provided in the hair sample, the more accurate the color match can be).
Make sure that your hair swatch is taken from the section of your hair that you wish to match.
Tie your hair sample up using a hair band when you are done or tape it to a plain, unlined white sheet of paper. Write your name, phone number, email address along with the topper style(s) you would like to order on the paper and put it in an envelope addressed to: UniWigs, 18305 E Valley Blvd., Ste C, La Puente, CA 91744.

2. Send us a Picture
Take a few recent photographs of your hair under natural daylight and email these photos to [email protected] We will be happy to recommend the best color match for you. This step can be done alone but if you can also send a hair sample swatch, that would be even better.
3. Purchase a Color Ring
You can also purchase a Color Ring from us, which is refundable. A Color Ring would help you to compare your own hair against shades of our hair swatches to find the color right for you. Before you purchase a Color Ring from us, we recommend you contact our customer service to let us know which style and color you're looking for, so we can advise which Color Ring would be best for you.
4. View Online Color Swatches
You can view our hair colors for styles directly on the product page and on the hair color page. Keep in mind, viewing color swatches online are intended only as a general guide, and the color may not be as exact due to monitor collaborations.
5. Phone Consultation
Monday-Friday, 9:00AM – 5:30PM PST, TEL: 626-810-2938
Monday-Friday, 5:00PM – 1:00AM PST, TEL: 909-895-6421
If you have any questions or concerns about choosing a color match, feel free to call our customer service team who will be more than happy to help you to choose a color right for you.
Color Tips
If you can't find your exact color shade from our website, a top tip is to buy a light colored hair topper and then dye it to your exact shade. We recommend using a hair topper in the color 613 Platinum Blonde, which is a light shade perfect as a base hair color for dyeing. Then you can get the topper dyed at a salon or by yourself to match your exact hair color. That is a great way to give a you a natural look and match your hair color without any of the other steps needed.
Recommend link: 
1. Choose the right color for wigs and extensions:
https://www.uniwigs.com/content/18-choosing-a-color-for-wigs
2. Find a color ring:
https://www.uniwigs.com/care-products/42594-color-chart-human-hair-color-ring.html
Related Posts:
HAIR TOPPER 101 - THE DIFFERENT BASE TYPES
HAIR TOPPER 101 - CHOOSE THE RIGHT BASE SIZE
---
Comments
Can u order color #G-613 Platinum Blonde with the Bella topper?
admin 2020-01-09 17:02:12

Dear Customer , We currently don'thave G-613 with the Bella topper , but we can customize for you ,




Please send your request like length and density to [email protected] , we will quote the price for you ,



Area of hair loss : Front/Fringe. My hair is always short, therefore am Exploring other hair types of har toppers. Had bought a cheap one several years ago however not wear them often. I get by by using head scarves when I am out. Therefore I prefer a dark brown, short hair style hair topper. I have natural curl, they are quite thick at the back, and thin on the front.
it is amazing thanks a lot
---
Can you recommend a hair topper that is not as full, and looks more natural?