The color of your Hair Topper should match your own bio hair color as closely as possible. However, sometimes it can be very difficult to get a perfect match for every hair shade. With years of experience, we highly recommend the customers can utilize the following options to select the right hair color.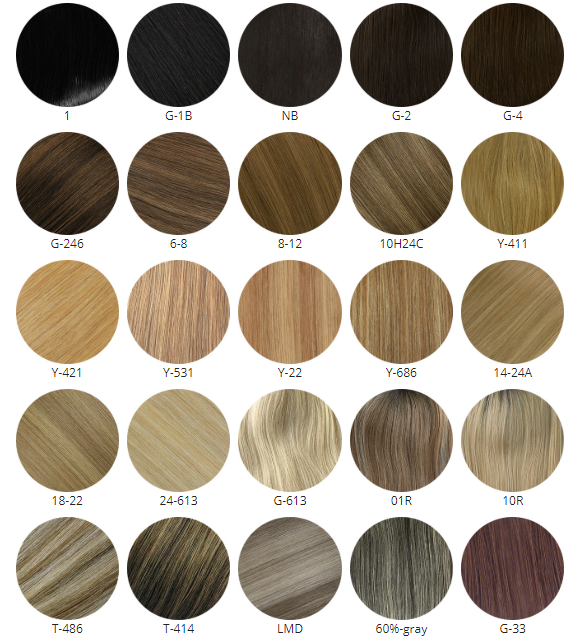 1. Send a Hair Sample
Send us a Hair Sample Swatch. Your natural hair will allow us to match your true color graduation from the source! This can be a great way to ensure that you will receive a color you are happy with. 
◊◊Preparing Your Hair Sample:◊◊
Please keep in mind that taking a hair sample is easy but it's important to give our hair color consultant enough to work with.
Cut a section that is at least 1.25" long by 1/4" across, which must consist of approximately 100-200 hairs (If you can spare a little more, it will make our job easier).
*Make sure that your hair swatch is taken from the section of your hair that you wish to match. Tape your hair swatch to a plain, unlined white sheet of paper. Write your name, phone number, email address along with the topper style(s) you would like to order  
Mail to: UniWigs, 18305 E Valley Blvd., Ste C, La Puente, CA 91744
2. Send a Picture
Take a picture of your hair under the natural light and send it to [email protected]. We will help you choose the best color based on the picture. This step can be done alone but if you can also send a hair sample swatch, this is even better. 
3. Purchase a Color Ring
You can also purchase a Color Ring from us, which is refundable. But before your purchase, we would like to recommend you to contact our customer service and let us know which style you are looking at. In that way we can tell you which color ring would suit that style.
4. View Online Color Swatches
You can view colors for styles directly on the product page. Keep in mind, viewing color swatches online are intended only as a general guide.
5. Phone Consultation
Monday-Friday, 9:00AM – 5:30PM PST,  TEL: 626-810-2938
Monday-Friday, 5:00PM – 1:00AM PST,  TEL: 909-895-6421
IF you have any questions or concerns about the color, you can also simply make a phone call to our customer service. They will guide you to choose the right color that you will be happy with.
◊◊Color Tips◊◊
IF we cannot provide you with the exact match to your existing hair color, you can go with a lighter shade. We also recommend you to consider the hair topper with color 613(Platinum Blond) and have it dyed in order to match your own. That is also a great way to give a you a natural look.
Recommend link: 
1. Choose the right color for wigs and extensions:
https://www.uniwigs.com/content/18-choosing-a-color-for-wigs
2. Find a color ring:
https://www.uniwigs.com/care-products/42594-color-chart-human-hair-color-ring.html
Related Posts:
HAIR TOPPER 101 - THE DIFFERENT BASE TYPES
HAIR TOPPER 101 - CHOOSE THE RIGHT BASE SIZE