Hair loss is a serious problem that everyone is facing. Many people almost randomly use some anti-hair loss products. In fact, hair loss is also a kind of disease, and its causes are also different, so, first, you must figure out why you are losing your hair before treating hair loss, such as Androgenetic alopecia (seborrheic alopecia), Poor or excessive scalp hygiene, Frequent blow dry, perm, and dyeing, Stay up late, stresses. Normally the hair loss starts from the front hairline and then receding to top and crown. So let's talk about the hair loss levels.
BEGINNING STAGE

Hair loss starts with a diffused pattern at front hair line. Most people suffering from this stage of hair loss will need a hairpiece with the small base size.
Normally the hair loss starts from the front hairline to top and crown gradually.
PROGRESSIVE STAGE HAIR LOSS
This is the stage of hair loss where the scalp becomes noticeable through the Top or Crown of the head. A Hair System with the medium size base can match the needs.
ADVANCED STAGE HAIR LOSS
Hair loss at this stage is typically very noticeable and completely bald areas of the scalp are visible. Most of the people who have such a big area thin hair or bald prefer to wear a hair system for daily life. The most workable size is 7"x9" and 8"x10".
BALD STAGE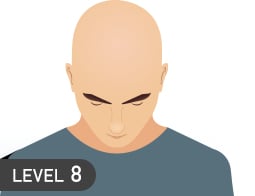 People with super advanced stage hair loss or bald may want to consider wearing for super large size hair systems such as 9"x11", or custom a full wig for alternative.